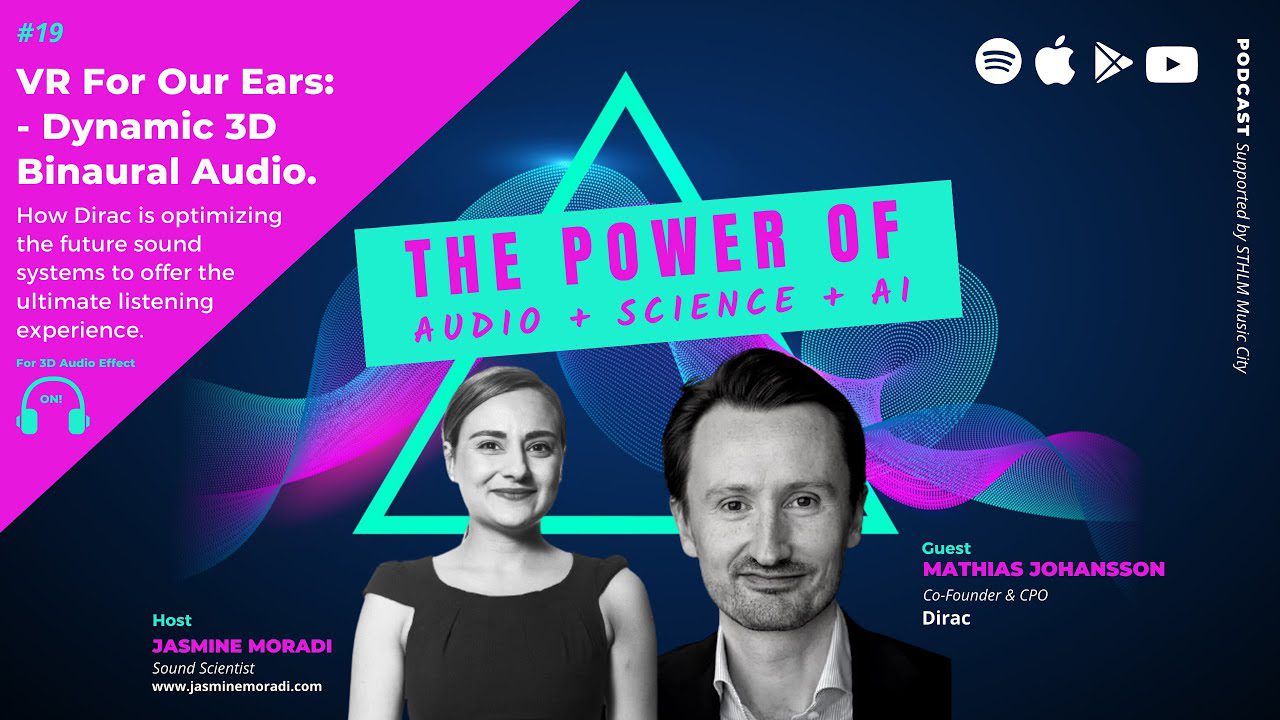 #19: VR For Our Ears: – Dynamic 3D Binaural Audio. How Dirac is Optimizing the Future Sound Systems to Offer the Ultimate Listening Experience.
In conversation with Mathias Johansson Chief Product Officer and Co-founder at Dirac.
My guest today is my new friend Mathias Johansson, Chief Product Officer and Co-founder of the Swedish company Dirac. Mathias has a Master of Science and a Ph.D. in Signal Processing from Uppsala University. And, it was at Uppsala University 20 years ago that Dirac was founded by Mathias and fellow Ph.D. students with the vision to revolutionize the way we hear sound. Sound and signal processing is at the heart of Dirac's journey.
Today, the company delivers optimized sound for mobiles, VR, AR, auto-motives, and residential and commercial environments. Mathias is deeply passionate about building great products and any advanced technology that can lead to a real change makes him tick. His current role is to define and plan new products.
He and his team are making the bad audio sound better with software technology that can upgrade any sound system without expensive hardware upgrades. They are offering better, cleaner, and louder sounds to many people! Dirac is "the sound pioneer" and "the complete supplier of solutions for digital audio signal processing."
In this episode, Mathias and I are discussing VR for Our Ears: Dynamic 3D Binaural Audio - Optimizing future sound systems to offer the ultimate sound experience. This episode has been binaurally recorded, so to experience the 3D Sound Listening Experience, put on your headphones.
Subscribe, listen & share
#1 The Story Behind Dirac's Mission of Changing the World of Sound Listening. (04:20)
#2 Listening Fatigue: The Task of a Speaker and the Biggest Challenges with Existing Sound Systems. (09:13)
#3 How Dirac is Making Bad Audio Sound Better with Software. (14:53)
#4 What is 3D Binaural Audio and Ambisonics, and How does it Hack Our Brain? (17:54)
#5 What You as an Audience can Expect from a 3D Binaural Sound Experience. (31:13)
#6 How Head Tracking Will Forever Change the Way We are Listening to Sound. (39:18)
#7 How 3D Binaural Audio and Hack Tracking will Transform Virtual Experiences. (45:49)
#8 3D Sound Use Cases that are Starting to Gain Momentum. (50:23)
#9 Best Practices on How Brands Can Use 3D Binaural Sound in their Audio Design Process. (52:47)
#10 What does the Future of 3D Binaural Audio Sound Like? (55:40)