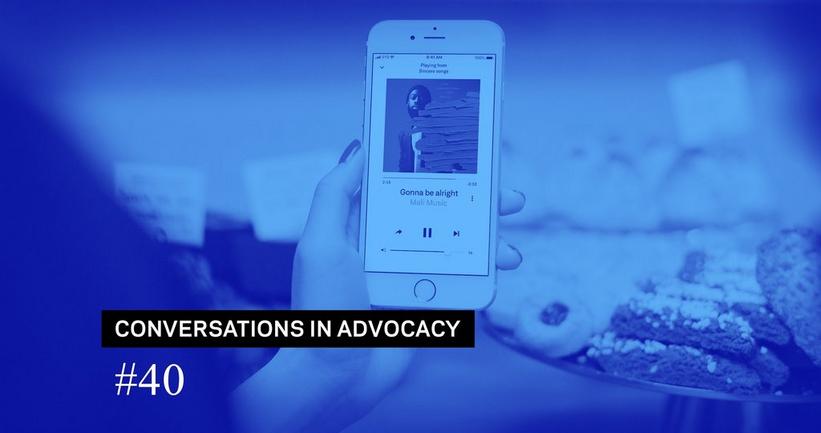 Bringing The Streaming Music Revolution To Small Businesses (Recording Academy)
Music adds so much to atmosphere, and commercial background-music services can help deliver competitive advantages to business customers.

"Licensed soundtracks for small businesses offer a win-win musical opportunity" — Conversations In Advocacy #40
Innovation in U.S. compensation for music's creators took a huge step forward last week as the Music Modernization Act was signed into law, but this week it's worth looking ahead to what streaming can do for small businesses. Nielsen conducted two studies earlier this year, commissioned by Soundtrack Your Brand, that showed a multi-billion dollar opportunity for the streaming revolution to add value and proper licensing to global business environments.
"Music makers are being shortchanged without knowing it," said Soundtrack Your Brand Chairman/Co-founder Andreas Liffgarden. "Consumer streaming companies have millions of customers who are actually businesses, who may be unknowingly misusing their services and not paying music makers the money they are entitled to, which is potentially in the billions of dollars."
World-wide, background music in business settings was estimated as a $12.3 billion industry, in itself. But among small businesses with at most 10 employees, Nielsen estimated that 83 percent are using unlicensed music in the workplace. Liffgarden was an executive during the start-up days of Spotify and sees this market as a promising opportunity, bringing streaming services with business background-music licenses into professional settings bound to benefit. Large brands are more likely to know better and comply, but tens of millions of small businesses with music playing are likely to be using personal accounts with services only licensed for consumer listening — about 83 percent of businesses on average.
For example in the United States, 71 percent of small business owners are under the mistaken impression that using a personal, consumer service is all the licensing they need. In the UK the figure is 60 percent. For marketing experts, this is the difference between two acronyms — B2B for business-to-business licensing versus B2C for business-to-consumer licensing. A commercial B2B license is intended to serve a larger number of listeners, as major brands already realize. In the U.S. that gap has been valued at an estimated $888 million annually.
"We weren't surprised by the results per se, but the scale of it was a little bit daunting, to be honest," Liffgarden told Rolling Stone. "The music industry at large needs to do better to educate. You instinctively know that you can't use your Netflix account and open a cinema — you'd surely roll your eyes and say, 'of course I knew that' — but the same isn't true for music." The "educational journey" that he believes in should provide benefits for all stakeholders.
Digital music piracy by consumers was viewed 20 years ago as a problem caused by technology, but now digital music royalties amount to more than half of global music revenue — because the problem was solved by technology, working with stakeholders to build a complete ecosystem. In the U.S., the Music Modernization Act helps to complete this virtuous circle.
For Soundtrack Your Brand, the opportunity to offer digital music for business is clear and the challenge is to get more than 20 million global places-of-work on board by enticing them with great service. There are many costs on commercial ledger sheets, for example janitorial service or providing complimentary coffee. Music is more than just another cost and comparatively, it is not a large cost — especially if it can be made more convenient, like a 'no-brainer.' Music's creators would clearly benefit from being rewarded with the money they don't receive from small businesses. But these businesses are also missing out by believing consumer services meet their commercial music needs.
"There's no doubt the overwhelming majority of small business owners are willing to pay to use music in their business," says Jody McKinley, North America Managing Director for Soundtrack Your Brand. "After all, it makes their business environment better. It helps create an experience for their customers or helps motivate their staff. Business owners understand that music adds value. What they don't understand is how to ethically source the music they are using in their business. We want to help fix that."
It will most likely be the benefits for small businesses that will help drive them along the educational journey. Creating an atmosphere that is good for business productivity distinguishes competitors, as shops and restaurants know. Aside from the legal liability of misusing B2C services in B2B settings, business owners are missing out by taking a passive approach to background music. Over time, digital playlists in various commercial environments should benefit from the same types of practical analysis that goes into choosing wall colors or determining how many tables or countertops are ideal. There is tremendous growth space for business creativity, backed up by data science and analytics.
Nielsen's "largest-ever international study into background music" supplies the vision and promising data to embark on a new streaming revolution — to mobilize consumers to get out of the house and go somewhere that offers a wonderful atmosphere. It's not just a matter of getting some owners to pay more for the right licenses. By helping brands stand out, music can drive customers and employees to want to spend time in their place. It's clear why that journey is a billion-dollar proposition that will help internet traffic become foot-traffic.