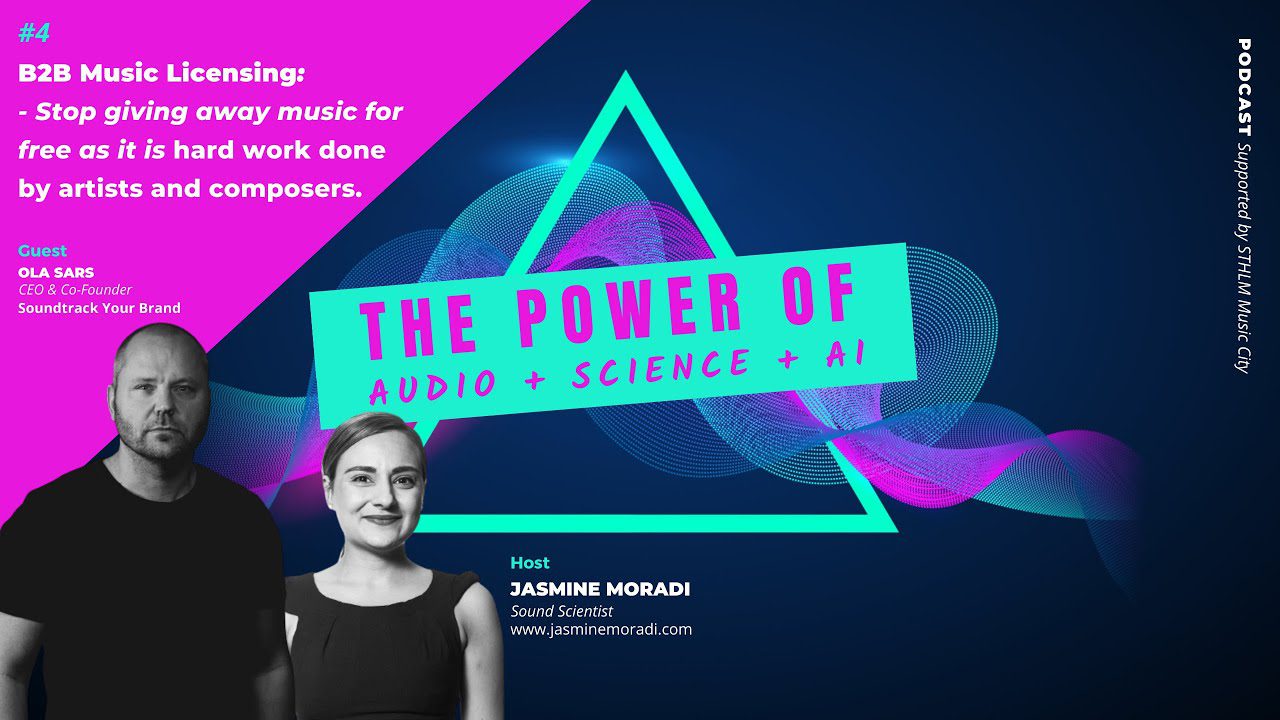 #4: B2B Music Licensing: – Stop Giving Away Music for Free as it is Hard Work Done by Artists and Composers.
In conversation with Ola Sars Founder, CEO & Chairman at Soundtrack Your Brand.
My guest today is my friend and ex. boss Ola Sars. We met for the first time in May 2015 when I got the chance to present my thesis results to him and the entire Soundtrack Your Brand team. After that I fell in love with Musictech, Ola offered me my dream job to continue conducting groundbreaking in-store music research with his world-class team.
Ola is a serial entrepreneur and the co-founder of Soundtrack Your Brand, which is a background music streaming service with curated background soundtracks for business use. He founded the company together with Spotify in 2013, aka Spotify Business. He is currently serving as the CEO and together with his amazing team, my ex. colleagues, they are spearheading the digital transformation of the commercial use of music in private and public spaces. Before that, Ola was the co-founder of Beats Music (which became Apple Music), and Pacemaker (now Tonium) the world's first DJ-driven music platform.
Today, Soundtrack Your Brand has become the world's fastest-growing music platform for businesses, with the goal to change the market for background music By proving that the right music, played at the right place and at the right time, enhances the in-store customer experience, and most importantly becoming the B2B music streaming service that increases the payment levels to right holders, Once and for all! Long journey, but they have succeeded, SYB is the only B2B music streaming service that has signed a global licensing deal with major record labels, and in August this year they announced the licensing deal With Universal Music Group, which was the last piece of the puzzle, and a big step towards improving the broken music industry. I am so proud.
In this episode, Ola and I discuss the ins and outs of how and why music has been and still is undervalued as an art form and how to inform millions of businesses of the value of in-store music, and to get them to pay correctly for the music they use.
Subscribe, listen & share
#4.1 – Musictech: How and why Ola Sars ended up in the music industry. The success and failures behind Beats Music, Pacemaker, and Soundtrack Your Brand. (09:03)
#4.2 – The successful strategy behind sourcing Spotify's backend, structure, and license. (25:27)
#4.3 – The difference between B2C and B2B music streaming products explained: Using Spotify or Apple music in your store is as illegal as opening a cinema with your Netflix account. (31:21)
#4.4 – The music industry has to come together as artists and musicians are missing out on $2.7 billion per year as a result of 21 million small businesses using personal Spotify or Apple accounts rather than a proper B2B service. (39:28)
#4.5 – Signing Universal Music Group was the last piece of the licensing puzzle to improve and set the business model of the broken B2B music industry. (44:50)
#4.6 – Soundtrack Your Brand's job is not to drive compliance but to offer a valuable product solution for entrepreneurs to increase store sales and customer experience. (48:52)
#4.7 – The music industry has to stop giving away music for free, and start realizing that in-store music costs as it is hard work done by artists and composers. (52:00)
#4.8 – How Soundtrack Your Brand's AI-powered analytics distributes the real-time streaming data back to the music industry so right holders can pay artists and composers ten times more. (56:28)
#4.9 – How "Soundtrack Unlimited", the world's first on-demand B2B music streaming product, helps entrepreneurs grow their business at the same time as artists get fairly paid. (1:03:07)
#4.10 – The real pivotal moment for the music industry is the day we can prove in real-time that music increases sales. (1:07:15)
#4.11 – How music can help your store during the pandemic. (1:09:18)
#4.12 – The audio revolution in the public domain is the next hit – audio messaging and audio research. (1:12:34)